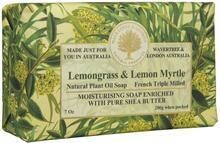 Australian Natural Soap
SKU 02705
Product Details
Australian Natural Soap uses the latest soap bar manufacturing technology to make beautiful high-quality soaps. All soap bars pass through a process of triple milling, also known as French milling. The result is a smooth long-lasting bar with a superior lather.
The bar is free of air pockets, excess moisture, stays hard and does not get soft or dissolve with use.

Made from 100% plant oils – sustainable palm and palm kernel oils, organic shea butter and vegetable glycerin. No tallow (animal fats or detergents), No SLS, No Parabens, No detergents or harsh Chemicals. Just pure premium grade plant oils.
Save this product for later